| | | |
| --- | --- | --- |
| 8th ← | United States Presidential Election, 28 August 2017 | → 10th |
---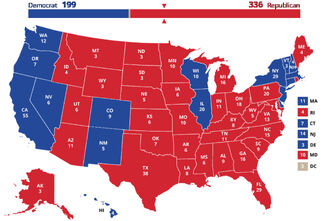 Presidential election results map. Blue denotes
those won by Murphy-Colbert, red denotes states won
by Heydrich. Numbers indicate electoral votes allotted
to the winner of each state.
---
| | |
| --- | --- |
| President before election | President after election |
The Ninth Presidential Election on POWER took place on 28 August 2017. It saw the re-election of John Heydrich to a fourth term, followed by the appointment of the Anglo Cabinet.
 
Presidential Candidate
Home State
Popular Vote
Electoral Vote
Count
Percentage
John Heydrich
Republican Party
Texas
81,908,925
59.9%
336
Sandra Murphy-Colbert
Democratic Party
New York
44,933,664
32.9%
202
Jim Jones
All Syndicalist Convention
Michigan
4,938,869
3.6%
0
Akeno Misaki
Imperial Japanese Party
South Dakota
2,539,340
1.9%
0
Murray Bookchin
Democratic People's Union
Illinois
1,359,791
1%
0
Luna Lovegood
Libertarian Party
Tennessee
926,748
0.7%
0
Dylan Vega
Green Party
Vermont
58,065
0%
0
Edward Mewere
American Conservative Union
Tennessee
2,404
0%
0
Total
136,662,178
100%
538
Candidates
Edit
Primaries
Edit
Democratic primaries
Edit
Republican primaries
Edit
| Image | Name | Position | Delegates | Notes |
| --- | --- | --- | --- | --- |
| | John Heydrich | President of the United States | 710 | Incumbent seeking re-election |
| | Pizo Cunningham | Vice President | 205 | |
| | Alex Jones | Governor of Arizona | 103 | Endorsing Heydrich |
| | Brat | Secretary of State | 99 | Endorsing Heydrich |
| | Wolfgang Mittermeyer | Governor of Indiana | 68 | |
| | Edriech Neuhoff | Governor of North Carolina | 56 | Endorsing Heydrich |
| | Curtis LeMay | Governor of Oklahoma | 55 | Endorsing Pizo |
| | Estelle Bright | Secretary of Defense | 44 | Endorsing Pizo |
| | Adrian | Governor of Georgia | 35 | Endorsing Heydrich |
| | David Seimer | Senator from North Carolina | 34 | Endorsing Heydrich |
| | Trajan Nym | Senator from New York | 30 | Endorsing Heydrich |
| | Josef | Governor of Louisiana | 24 | Endorsing Heydrich |
| | Troy Truluck | | 13 | Endorsing Alex Jones |
| | James Peters | | 6 | Endorsing Pizo |
| | John Johnson | Former Secretary of State | 3 | Endorsing Alex Jones |
Libertarian primaries
Edit
DPU primaries
Edit
| Image | Name | Position | Delegates | Notes |
| --- | --- | --- | --- | --- |
| | Murray Bookchin | Governor of Illinois | 585 | |
| | Katie Hopkins | | 415 | |
ASC primaries
Edit
| Image | Name | Position | Delegates | Notes |
| --- | --- | --- | --- | --- |
| | Jim Jones | Senator from Michigan | 1000 | |
American Conservative Union primaries
Edit
| Image | Name | Position | Delegates | Notes |
| --- | --- | --- | --- | --- |
| | Edward Mewere | Senator from Idaho | 1000 | |
Moderate Republican Party primaries
Edit
| Image | Name | Position | Delegates | Notes |
| --- | --- | --- | --- | --- |
| | Scrooge McDuck | | 1000 | |
American Labor Party primaries
Edit
| Image | Name | Position | Delegates | Notes |
| --- | --- | --- | --- | --- |
| | Raymond | Senator from Delaware | 1000 | |