Foreman Domai was a major politician in POWER I, serving as the 1st Vice President of the United States under Hubert H. Humphrey, and as the 2nd President of the United States briefly before the Great Rumcode Collapse. Domai was chairman of the Democratic Party through almost all of POWER I, and led it to great successes.
Domai was arguably the most powerful politician of POWER I, leading the Democratic Party throughout its greatest successes and ensuring that stability was kept in the party leadership. Alongside his lieutenants such as Karl Sharks and HHH, Domai promoted AMSOC and created a successful party structure that led to the Democrats getting a supermajority in the Senate and having the only two-term President of Power to date.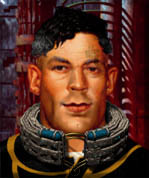 He lost chairmanship during the Great Dick Henry Coup in February 2017, and again in March 2017 after an internal coup. However, despite not being chair, Domai was able to win one of the two Democratic primaries and was elected as President on March 15, 2017, leading to the 'Domai loyalists' regaining control of the Democratic Party as a whole.
Throughout HHH's presidency, Domai served as his Vice President. This ensure he could maintain his power without worrying about re-election. During his time as chair, he also cultivated a 'cult of personality', and following the Great Rumcode Collapse the 'coup Dems' Discord server was converted to the Holy Domaiscan Order in his honour. He returned to POWER in February 2018, as Senor Domaigo, the President of Mexico.